A BEE HOTEL
WHAT MAKES OURS UNIQUE
Unlike honeybees, Solitary Bees as their name implies, live alone. They don't stay in hives, instead they nest in holes made by other insects because most of them can't make their own holes. So when their natural habitat starts disappearing, so do their chances for survival. That's where bee hotels come in. They mimic the holes found in nature and give bees a safe new home in yours. And when it came to the production of the Bee&Bee, we tried to give back even more. It's produced using invasive alien tree species and is designed with multiple sized holes to accommodate the varying sizes and species of Solitary Bee's.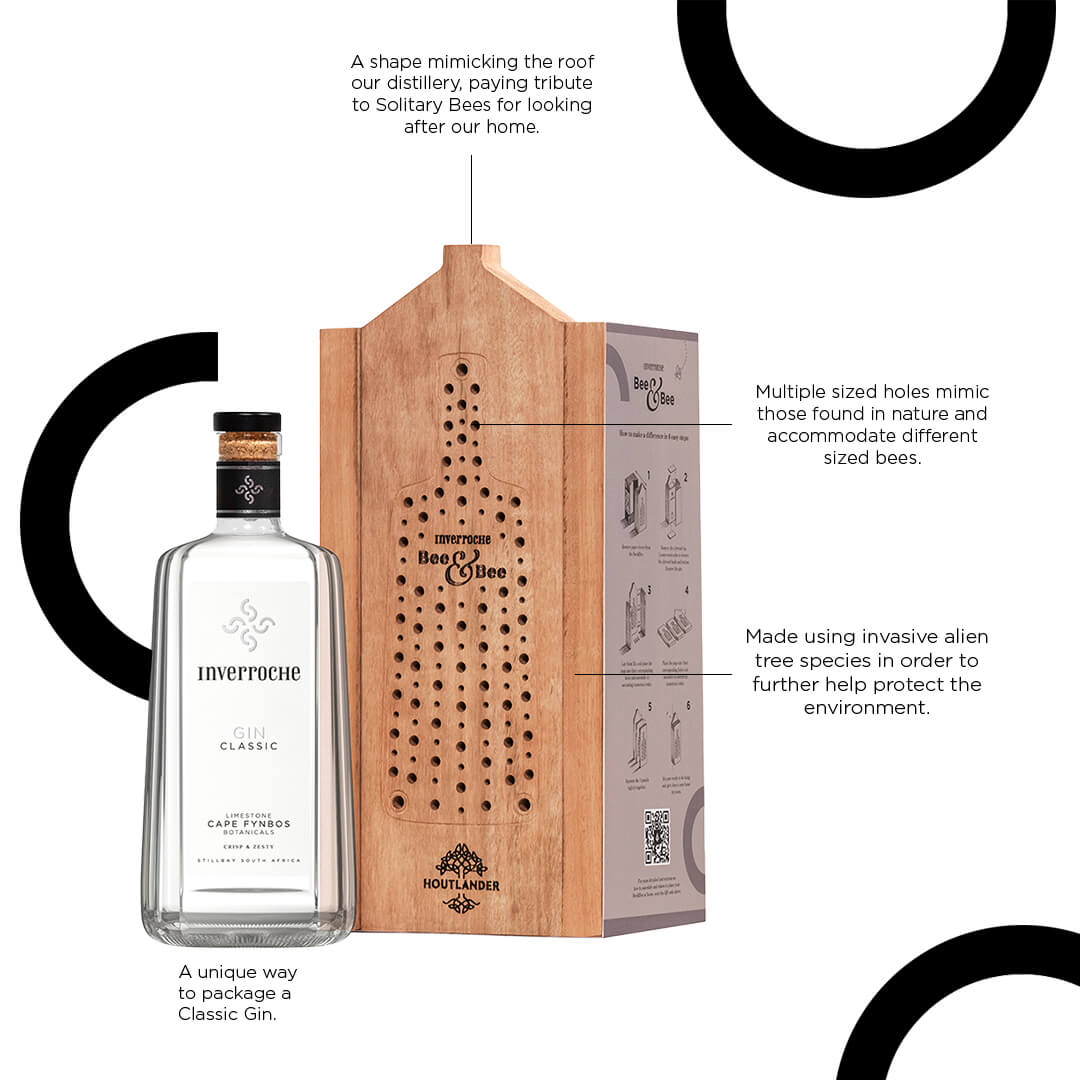 THE EXPERTS
THEIR SUSTAINABILITY CREDENTIALS
LORNA SCOTT
INVERROCHE FOUNDER & CEO
Lorna launched Inverroche as a way to support and sustain the local community and environment. And Through the Bee&Bee she's found another way to enrich and sustain the locals, this time the bees.
CHEVONNE REYNOLDS
BIODIVERSITY RESEARCHER, WITS UNIVERSITY
Chevonne has a big heart for little creatures. She helped advise and guide us on all things "bees" throughout the journey of the project
PHILLIP HOLLANDER & STEPHEN WILSON
FOUNDERS HOUTLANDER
For a project with giving back at its core, we looked no further than sustainable woodworkers Houtlander when finding a partner to design and manufacture the Bee&Bee.
THE BEE'TENDERS SIGNATURE SERVE
INGREDIENTS
50ml Inverroche Classic Gin
4-5 Dashes Angostura Bitters
25ml Fresh Lemon Juice
75ml Fresh Orange Juice
20ml Agave Syrup
Add all ingredients into a shaker with ice and shake well. Fine strain into the hexagon jar and add garnish, lid and glass straw

Please Enjoy Inverroche Responsibly